Wow! What a month! How was everyone's Christmas and New Years?
My Christmas was amazing. My Mother in Law got me
this.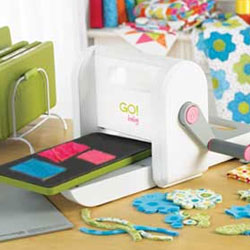 Well, she got me an obscene amount of Joann gift certificates. I had enough left over to get a couple dies too!
Then, my husband/sister-in-law& her boyfriend/my dad gave me cash and I was able to get
THIS!!!!
And I have been in hog heaven. I am so grateful for the blessings in my life.
Now that everything is settled back down somewhat and we are back in the saddle, I have decided to join a sew along. I was looking into Quilting Bees, Block Swaps, Quilting Swaps, Mug Rug Swaps and nothing jumped out at me that I knew I would be able to legitimately commit to and enjoy. I'm still nervous about quilting. I need to just make a quilt and get it over with!! ;)
But, then I got wind of a monthly Bag Challenge over at
JemJam
. Bags? Bags??? I can DO that! I'll be doing that anyway! This is perfect!! I will be trying new styles, new techniques and will be able to put the finished product in my shop (hopefully). PLUS, there will be two random winners every month for gift certs to
Above All Fabric
and
Fat Quarter Shop
. That's just icing on the cake!
Here is the link for the rules and regs:
JemJam Style Stitches Rules
The first bag went into blog land a few days ago, so I am behind....but that' okay. Better late than never. :)
I just ordered my Style Stitches book from
Pink Chalk Fabric
and will have to wait for that, so that gives me time to finish up a few projects in the works. This is so cool. I've wanted this book since it came out and now, the perfect excuse to get it for myself. ;)
Happy January you all and here's hoping you find something exciting that inspires you!